Model-F1005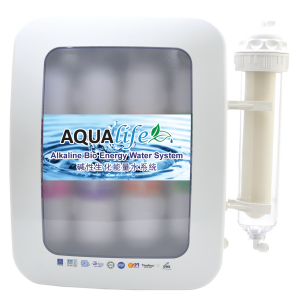 Level 1: Ceramic Filter
Function: As the use of ceramic filters is a natural physical material, all of the various minerals but not eliminated, it will keep the water beneficial minerals, while effectively removing silt, bacteria, rust, never plug, long life, excellent filtering effect, etc…
Level 2: PP Sediment Filter
Function: This filter is made from Polypropylene to remove and reduce dirt, solids, silt, and rust.
Level 3: Activated Carbon
Function: High quality coconut based activated carbon has large surface area and high absorption capacity. It effectively reduces chlorine, organic solvent, colour, odor and also helps improve the taste of water.
Level 4: Alkaline Energy Filter
Function: Mineral Alkaline Stone adjust the pH of water to mild alkaline and balance the pH in human body. Bio ceramic Ball emit far-infrared to break water cluster into smaller molecules, it also helps in the activation and oxygenation of the water molecule for better cell absorption.
Level 5: CTO Carbon Block
Function: The Carbon Block act as a polishing filter to remove residue chlorine traces of harmful substance and colour while improve the taste of water.
第一级:陶瓷滤芯
陶瓷滤芯由于选用的是纯天然物理材料,把不各种矿物质全部却除,它会保留水中有益矿物质、同时有效去除泥砂、细菌、铁锈、永不堵塞、使用寿命长久、过滤效果卓越等优点。
第二级:PP滤芯
PP滤芯也叫做PP熔喷滤芯,熔喷过滤芯由聚丙烯超细纤维热熔缠结制成,纤维在空间随机形成三维微孔结构,维孔孔径沿滤液流向呈梯度分布,集表面、深层、精精过滤于一体,可截留不同粒径的杂质。
第三级:活性炭滤芯 散装型活性炭滤芯
散装型活性炭滤芯将所需要的活性炭颗粒装入特制的塑料壳体中,用焊接设备将端盖焊接在壳体的两端面,壳体的两端分别放入起过滤作用的无纺布滤片,确保炭芯在使用时不会掉落炭粉和黑水。
第四级: 弱碱性滤芯天然托玛琳矿石
碱性矿石是根据铁矿石的自熔性能或矿石碱度确定的一种矿石类型。它是PH值在7以上的弱碱性水,符合人体细胞新陈代谢所需要的PH值7.30-7.45的弱碱环境。
第五级:活性炭滤芯 压缩型活性炭滤芯
压缩型活性炭滤芯采用高吸附值的煤质活性炭和椰壳活性炭作为过滤料,加以食品级的粘合剂烧结压缩成形。压缩活性炭滤芯内外均分别包裹着一层有过滤作用的无纺布,确保炭芯本身不会掉落炭粉,炭芯两端装有柔软的丁晴橡胶密封垫,使炭芯装入滤筒具有良好的密封性。