Model-F1008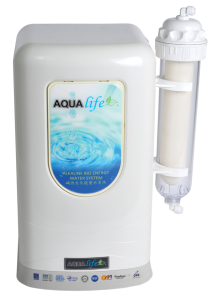 Level 1: Ceramic Filter
Function: As the use of ceramic filters is a natural physical materials, all of the various minerals but not eliminated, it will keep the water beneficial minerals, while effectively removing silt, bacteria, rust, never plug, long life, excellent filtering effect, etc…

Level 2: PP Sediment Filter
Function: Dirt & sand reduction

Level 3: Activated Carbon
Function: Chlorine taste & odor reduction

Level 4: Alkaline Energy Filter
Function: Mineral Alkaline Stone adjust the pH of water to mild alkaline and balance the pH in human body. Bio ceramic Ball emit far-infrared to break water cluster into smaller molecules, it also helps in the activation and oxygenation of the water molecule for better cell absorption.

Level 5: MGB
Function: Promote micro circulation and activate cells, enhance cell metabolism ability, make skin full of vitally, the skim smooth and elast.

Level 6: UF
Function: This product filter pore size of less than 0.01M, can effectively remove the suspended matter, microbes, bacteria, rust ect…, to ensure water quality clean.

Level 7: CTO Carbon Black
Function: Chlorine taste & odor reduction

Level 8: UV Light
Function: Photochemical reaction and Optical Physics processing technology; kill 40 kinds of bacteria, viruses and algae

第一级:陶瓷滤芯
陶瓷滤芯由于选用的是纯天然物理材料,把不各种矿物质全部却除,它会保留水中有益矿物质、同时有效去除泥砂、细菌、铁锈、永不堵塞、使用寿命长久、过滤效果卓越等优点。

第二级:PP精密熔喷滤芯
PP熔喷滤芯能彻底去除水中的残留泥沙、铁锈等各种微小杂质,具有较强的抗腐蚀性。

第三级:高密度活性碳
吸附水体中化学污染物、农药、化肥、异味,ID能量转换对水体进行初步的整理、激活。

第四级:弱碱性滤芯天然托玛琳矿石
它是PH值在7以上的弱碱性水,符合人体细胞新陈代谢所需要的PH值7.30-7.45的弱碱环境

第五级:活磁矿化石滤芯Promote Micro Circulation
对流过的水进行微磁处理,同时释放多种对人体有益的矿物质,调节口感,甘甜恬人。

第六级:中空超滤膜 UF
能截留水中之极微小悬浮物、胶体、颗粒、细菌,滤除水中之大分子物质,滤后水特别清澈。

第七级:美国技术精密活性碳
它利用氧化-还原反应除去水中的重金属,抑制微生物的滋生。压缩型活性炭滤芯采用高吸附值的煤质活性炭和椰壳活性炭作为过滤料,加以食品级的粘合剂烧结压缩成形。

第八级:紫外线消毒杀菌
功 能:采用光化学反应与光物理加工技术;在线杀灭40多种细菌、病毒及藻类。